4 Ways to Improve Customer Engagement with Live Chat
4 Ways to Improve Customer Engagement with Live Chat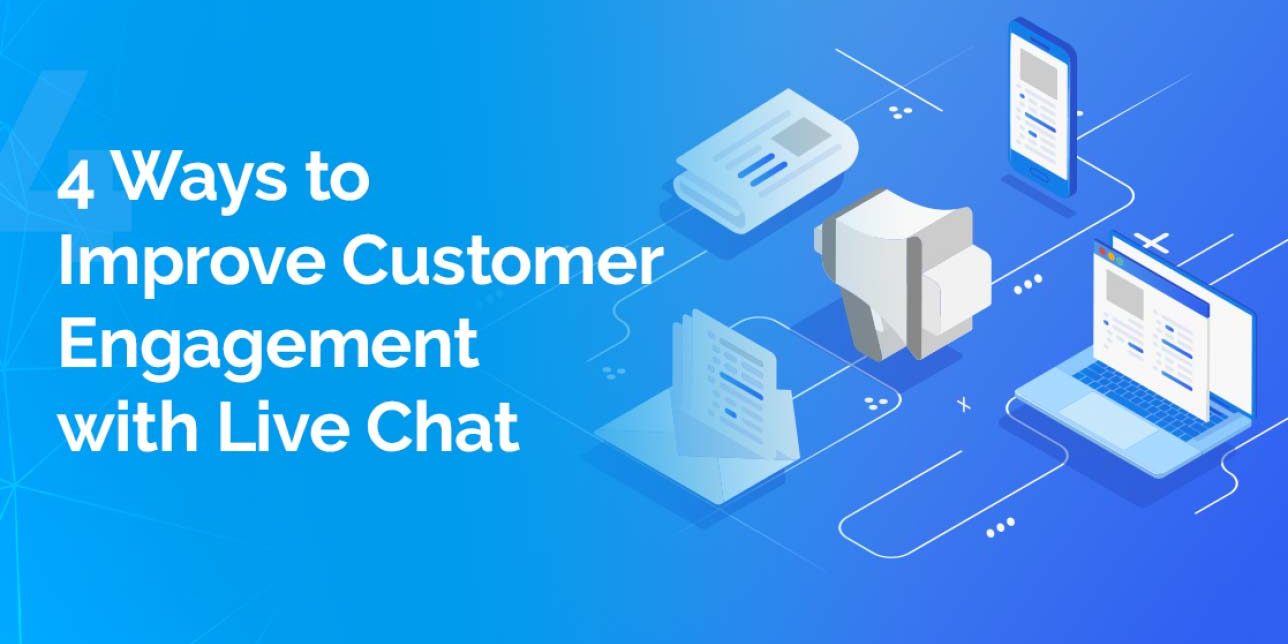 Customer engagement is vital to any business. When thinking about customer engagement, you need to go beyond the typical level of service and support many customers have come to expect.
Your customers want to feel important. They want to feel like they matter to you. They may even want to feel like the most important person in the world, if only for a moment.
It needs to be clear you value your relationship with them and not just the money they spend at your business. You need to establish an emotional connection between your business and your customers.
In a traditional brick and mortar setup, this is simple. A level of personal touch can be easily achieved – a greeting at the door, the ability to answer their questions in real-time, and so on.
How can you translate that level of service and care over to your website?
Live chat has been around for quite a while – we've been providing 24/7 live chat for over 17 years – but it is still an emerging best practice for many companies. If you're looking to improve online customer engagement, live chat is a simple place to start. Below are some ways to improve online customer engagement with live chat.
Proactively Engage Your Customers
How many times have you used live chat on a website and been asked to provide your email or phone number before you're allowed to start chatting? It's annoying, right?
When you enter a store, you expect to be able to approach an employee with a question and get help right away. Imagine if that employee asked you for your email address or phone number before he or she helped you.
As a business owner, you want the process to be as painless as possible for your customers. Remove the barrier to entry. Any live chat function on your website should operate the same way.
Proactively engage your website visitors with a call to action such as "Welcome, how may I help you today?" Live chat for lead generation is very important as well.
Provide Your Customers with Valuable Suggestions
Today, most live chat software available can store tons of information about customers or visitors. If it is a returning customer, this information might include the visitor's name, location and the company they work for. Your chat agent might also have access to previous chat transcripts. This information can be used in offering customers valuable services and suggestions based on their former information stored and history. Your customers will appreciate the fact that they don't have to repeat their previous problems to newly assigned chat agents.
Provide Online Support 24/7
Depending on where in the world your customers are located, staffing your chat solution during standard business hours may not be enough. It is called "Live" Chat after all. For a significant improvement with live chat, you need to offer a 24/7 service.
We understand this may not be feasible for every business. If you cannot keep your chat online 24/7, then be sure to include your chat hours clearly on the chat window itself. You could also include an offline form to help with conversions.
Use Live Chat Agents Not Chatbots
Your customers want to talk to real humans and not chatbots. In fact, In fact, according to the survey by NewVoiceMedia, 75 percent of consumers prefer to have their customer service inquiries handled by a live agent over a chatbot.
Try to recall a time when you used live chat on a website. How was the experience? Was there a live agent to help guide you, or did you end up in a dead end conversation – once you realized it was a chatbot? Live chat agents provide a level of personal service for your potential customers.
Today, customers have unlimited options at their fingertips. To gain their trust and turn them into a customer for life, you need to prove you are dedicated to their needs and engage with them every step of the way. Incorporating live chat into your digital strategy is a great place to start.
If you're looking to improve online customer engagement, add live chat to your website today.